In Castle Rock, Colorado, siding has a tough job to do. The purpose of all home siding is to protect and insulate the home, to shed water, and last but hardly least, to look great for as many years as possible. In Castle Rock, siding must stand up bravely to dry air, omnipresent sunshine, dramatic temperature changes, crazy hail storms, blizzards, rain, and gusts of wind. And we want it to stand up to the elements while requiring as little maintenance over the years as possible. In fact, none would be preferable. Wouldn't you agree?
Because there are so many choices for Castle Rock Colorado siding, and because siding is a major purchase that you won't want to redo in a couple of years, it's best to make sure your siding contractors are experts who can advise you on the best choice for your home's siding needs.
Best Types of Castle Rock Colorado Siding
There are a variety of choices of siding materials on the market today. Once upon a time, aluminum siding was the big deal. Before that it was wood, which is still widely popular today and in fact is the siding material most Colorado homes have. But is wood really the best choice in the dry and sometimes harsh Castle Rock climate?
Aside traditional wood siding and shingle siding, these are the main contenders for your siding dollar today: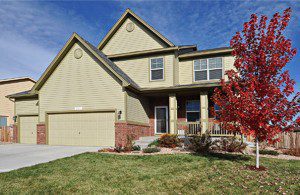 1. Vinyl siding, the number one choice around the country for new siding projects. Today's vinyl siding has come a long way. It's affordable, beautiful, long lasting, and does not require a lot of maintenance.
2. Steel siding: a less popular choice, but it's durable, and can stand up to one of Colorado's legendary hail storms that would shred vinyl, with nary a dent. This product is incredibly durable, requiring only a hosing down to keep it looking great. Fire, resistant, insect resistant, dent and ding resistant.
3. Fiber cement siding: this new kid on the siding block has been coming on strong for the past twenty five years, and is the top choice for all luxury building today. Fiber cement siding is beautiful, comes in stunning styles and color palettes, and will hold its color well for fifteen years or longer. It won't dry out, rot, split, or be eaten by termites the way wood can. It is green, made of sustainable materials, and non flammable in case a summer wild fire should threaten your Castle Rock Colorado siding and home. It even comes in styles that look like wood or shingles, for those of you who want that traditional Castle Rock Colorado siding look without cutting down a single tree.
For more information about Castle Rock Colorado siding choices, or to get a quote for a siding job, please contact us today.