When it comes to fiber cement siding, we believe James Hardie fiber cement ColorPlus siding is the gold standard. Their siding comes in a variety of styles including traditional plank siding, a vertical siding, a siding that looks like cedar shingles but is really their non-flammable fiber cement HardieShingle instead.
ColorPlus siding refers to the special process James Hardie uses to bake the color into their siding. This makes it durable and extremely long lasting. If you've ever had wood siding, or painted siding, you know how quickly the color can start to fade or chip, especially if you live in the mountains where there's heavy snows each winter.
ColorPlus siding can save you a lot of time and money over the years because it is an extremely low maintenance product. The ColorPlus technology is warranted for fifteen years, and will look beautiful on your home's exterior without touchups or repainting.
But perhaps the best thing about James Hardie's ColorPlus siding options are the stunning, sophisticated color palettes it comes in. The designers at the James Hardie company have put together an array of different colors that can be mixed and matched as you like, or you can pick one of their palettes that includes the base color, the trim and soffit colors. There are over twenty colors available to suit your tastes and create the image you are looking for on the exterior of your home.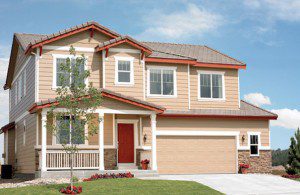 Click here to see some of the most popular James Hardie ColorPlus siding color palettes.
Here's how the ColorPlus siding technology works:
James Hardie applies multiple coats of their proprietary finish to every surface of their siding products. Between each coat of paint, a special curing process is used which bonds the paint to the fiber cement and allows the finish to resist chipping, peeling, or cracking. The fact is, both the finishes on vinyl siding and regular house paint both fade over time in the sun. With their special ColorPlus bond, James Hardie siding products resist fading longer and stay beautiful without repainting or retouching for much longer than any other siding currently available today.
Did you know that along with the fantastic ColorPlus siding technology, James Hardie fiber cement sidings are also engineered for climate? This means they can easily handle anything the Colorado climate can throw at them, without rotting, splitting, drying out, or many of the other issues that beset the traditional wood siding that has been so popular across the state? It is non-flammable so it won't add any fuel to a fire. And it is equally unappealing to termites and woodpeckers.
For more information or a quote for James Hardie ColorPlus siding, please contact us today.