James Hardie® Siding ColorPlus® Colorado
For the ultimate in performance with HardieZone® products, add ColorPlus® Technology.
This proprietary process involves applying consistent, multiple coats of paint that was created especially for the demands climate places on a home's exterior. The end result is a beautiful consistent finish that lasts up to 2x's longer.* A baked-on coating offers maximum durability and resistance to prolonged exposure to freezing climate and moisture contact.
Specially formulated paint stands up to UV levels in a way few field-applied paints can, offering up to 30% more fade resistance.
ColorPlus Technology finishes are warranted for 15 years
Our finish warranty guarantees your color will not crack, chip or peel for 15 years.
Over 41 quality checks are made throughout our proprietary manufacturing process to ensure the quality of the substrate, the texture and the finish. No other manufacturer can match our demanding quality standards.
Considering the alternatives? Compare the benefits of James Hardie® Siding Products with ColorPlus® Technology to filed applied paint options, especially on larger buildings.
Most of the raw materials used to make James Hardie® Siding are extracted and processed near each manufacturing facility.
The Process
James Hardie® siding products with ColorPlus® technology – a unified composition of advanced fiber-cement and baked-on pigment – combine the highest quality raw materials, proprietary manufacturing process and equipment, revolutionary paint technology and innovative color process that gives homeowners a superior siding solution for their homes.
James Hardie®, the largest producer of fiber-cement siding in North America® is the only siding manufacturer that controls its product from the initial mixing of the cement to final painting in one facility. To ensure that every board meets James Hardie's high standards, over 41 quality assurance checks are made throughout the manufacturing process and each batch of siding is also checked at three outside testing facilities to monitor long-term durability.
Color Accuracy
Have you ever taken a gallon of paint back to the store because it didn't match the rest of your project? How would you feel if one side of your house was a shade darker than the rest? James Hardie® color variance accuracy standards for our ColorPlus® technology finish are three times stricter than what's acceptable for most "store-bought" paints and more tightly controlled than the automotive industry.
Application Consistency
The James Hardie® proprietary manufacturing process involves applying consistent, multiple coats of paint that was developed especially for our fiber-cement siding. Then, the paint is baked-on in a closely controlled factory environment. Our automated manufacturing process, constant quality monitoring and application of up to 50% more paint – compared to field-applied paint – provides the most consistent paint application at the optimal thickness.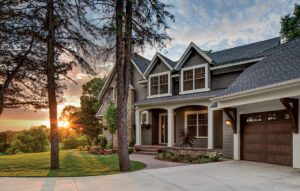 In Carbondale, savvy homeowners know the secret to long-term savings: LP Siding. In Carbondale, homeowners...