For homeowners in Denver Colorado, siding is not a purchase to be made lightly. After all, it is costly and needs to last for a long time. And you want it to last while looking great, at the same time. No one wants to spend money on siding and then have to do maintenance on it or repaint it every few years.
Many of our customers are purchasing siding for the first time, and they just don't know that much about it. So which type of siding is best for your home? Let's look at the basic purpose of siding, which is to protect your home from the elements. The looking great part is important too, but that is really secondary to helping to insulate your home.
For Denver Colorado siding, you need something extremely durable that can stand up to the harsh climate for many years to come. Look at what your siding will have to withstand:
1. Dramatic temperature changes in the course of a single day.
2. Hailstorms that seem to spring up out of nowhere and can cause great damage to property.
3. Blazing sunlight baking down on it, day after day, year after year, at Denver's high elevation, fading the finish.
4. Heavy gusts of wind that can rip a loose board right off.
5. Snow, snow, and more snow.
So Denver Colorado siding needs to be the highest possible quality that you can get for your money, wouldn't you agree? And we are sure you would like to purchase siding that will last for the duration of your time in that home, wouldn't you?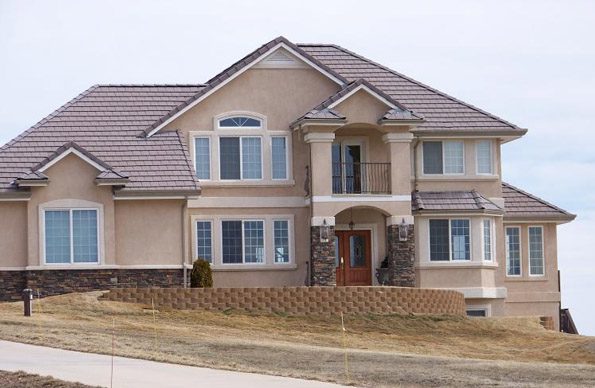 The three most popular types of siding on the market today are wood/shingle, vinyl (the industry leader) and fiber cement (the new kid on the siding block that has taken the industry by storm.)
What are some of the benefits of each one?
1. Wood and cedar shingle siding are traditional and give a home that rustic mountain look we all seem to love. Wood can be extremely durable, but it will require maintenance more frequently than other kinds. And it is highly flammable.
2. Fiber cement siding is non-flammable, made from sustainable resources, and the color is warranted for up to fifteen years. This siding will not rot, dry out, warp, or be attractive to termites or woodpeckers. Oh, and it comes in styles that copy the look of wood, including shingle styles.
3. Vinyl siding is less expensive than the more high-tech fiber cement. It comes in a phenomenal array of pretty colors that will last, and certain types even comes with a built in extra layer of insulation to keep you toasty in the chillier months.
Which is the right Denver Colorado siding for your home? Why not give us a call today to find out? We're happy to help discuss the pros and cons with you and give you a competitive bid for the job.