In Greeley Colorado, siding is a major purchase that we want our customers to give serious consideration to. The purpose of a home's siding is to protect the house from the elements. So a Greeley Colorado siding project has certain specific needs.
The siding chosen should be able to stand up to the Colorado climate. The gusting winds, dry air, omnipresent sun, rapid and extreme temperature changes, crazy hail storms, etc. That's its first job.
But when it comes to homeowners in Greeley Colorado, siding also has another demand put on it. It has to look great. For a long time to come. Without a lot of maintenance. Because let's face it, no one wants to have to purchase siding again any time soon. And no one wants to spend any other their leisure time doing maintenance on siding that couldn't hold up to the demands of the weather.
So we frequently advise our Greeley Colorado siding clients on the pros and cons of different kinds of siding materials, to help them make the most appropriate choice. But once they have chosen their siding material, they also need to choose the style of siding, the main color of the siding, and the trim and soffit colors.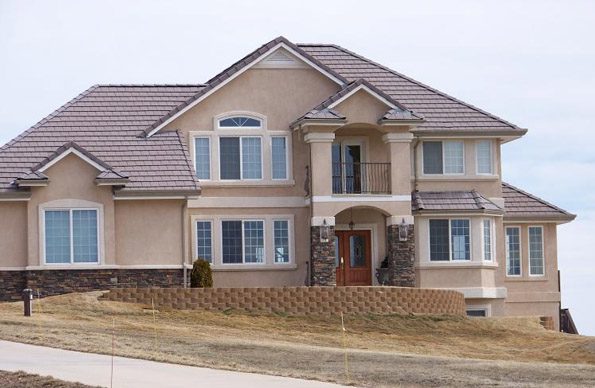 This is where the fun starts. Did you know that different styles of siding can give your home a whole new look? Let's say you currently have regular horizontal plank siding. Imagine how different your home would look with cedar shingle siding? Perhaps you currently have a gray home with gray siding and paler gray trim. It was there when you bought the home, but you've always found it really dull; not at all to your taste.
This is when Greeley Colorado siding jobs really get interesting. We recently had a client who went from that dull gray plank siding to deep rich shingle siding, with clean white trim. She told us she could not stop staring at her house, she loved the look so much.
So along with making an investment in your home's value and its protection, you could see your new siding project as an opportunity to enhance the entire appearance of your home's exterior in as subtle or dramatic a fashion as you'd like.
If you are looking for a siding contractor for a Greeley Colorado siding project, large or small, we hope you will consider us. We have fifteen years in the siding business and many hundreds of satisfied customers. We'd love to add you to that list, so why not give us a call today for a bid?