When it comes to Wheat Ridge Colorado siding, there are several great choices. A homeowner needs to take into consideration various factors when deciding which type of siding to buy. The amount of maintenance, the durability, the ability to withstand the Colorado climate, the warranties, how frequently it might or might not need painting, and the colors and styles.
We certainly don't expect our Wheat Ridge Colorado siding clients to know everything there is to know about home siding. After all, many of them have never had occasion to purchase it before. They turn to us for advice, which we are only too happy to provide. With our fifteen years in the home siding business and a Gold Star from the Better Business Bureau for no customer complaints, we are your siding experts. So feel free to ask us any questions you like.
For homes in Wheat Ridge Colorado, siding is available in three main types. Let's take a look:
1. Traditional wood or cedar shake siding. Over fifty percent of homes in the state are still clad with some type of wood siding. If properly taken care of, wood is incredibly durable and can last thirty years on a home. However, wood requires more maintenance than some other types. The colors fade in the strong Colorado sun. The dry air can cause the siding to split or crack. And the snows and rain can cause it to rot. Then, there's the flammability issue. And the fact that trees must be chopped to build this siding.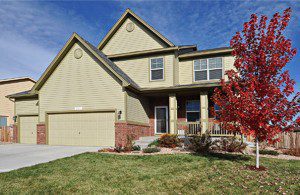 2. Vinyl siding. This product is the most popular siding sold in the US today. It's durable, great looking, and highly affordable. Obviously, no forests had to die to create vinyl siding, but since it is not yet made with recycled materials, it is not really all that "green." When it comes to Wheat Ridge Colorado siding, we know that sustainability can be important to our clients.
3. Fiber cement siding. Although this product has only been around for thirty or so years, it has captured substantial market share and is beloved by architects, builders, contractors, and of course, homeowners. A bit more pricey than vinyl, it is also made of sustainable materials. Fiber cement siding is incredibly low maintenance, and makes an old house look new with its colorfast paints that are baked in. It is durable, unaffected by anything Colorado's sometimes wild weather can throw at it, and non-flammable. This means it will not add any fuel to a fire, which can be a great advantage in some of Colorado's mountain areas. It comes in styles that can mimic the look of traditional wood or even cedar shingles.
As you can see, in Wheat Ridge Colorado, siding is a big investment and there is a lot to consider aside from just the aesthetic elements like color and trim. For more information, why not either give us a call or contact us through our online web form? We can steer you in the direction of the best siding for your home's needs and give you a competitive bid for the job, as well as answer any questions you might have.
Colorado Siding is a local Colorado company. We would love to earn your business.