A Perfect Choice for Southwestern Homes Today
Stucco is a popular exterior for homes throughout Colorado and the Southwest, and it adds a nice, clean but rustic feel to a home. Although many people have always loved the look of stucco and it's still very popular across Colorado, and it's one of the most inexpensive materials to apply, it's also fairly labor-intensive to apply. In this day and age, the high cost of labor makes it a costly process, and it has various other disadvantages as well.
The main disadvantage to the material known as stucco is its susceptibility to moisture, which is why it's mainly seen in hot, dry climates and rarely seen in moist climates. Moisture can penetrate the stucco, allowing mold to grow and causing premature peeling right off the structure it's been applied to.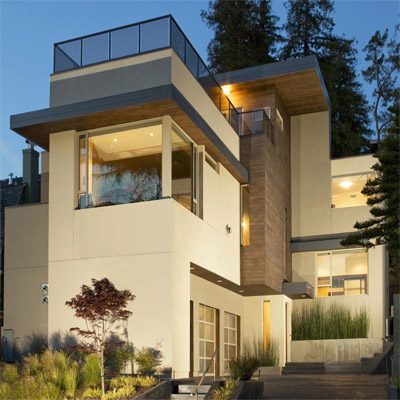 So what do you do if you really want the look of stucco on your home, without the problems and drawbacks? Simple! Stucco siding from a premier company like James Hardie is a cost-effective, modern alternative to traditional stucco. It's all but impervious to moisture, comes in easily installed panels, and holds its color many times longer than the traditional stucco of days gone by. It's a fantastic choice for homes that are not a good design for other types of siding, or for homeowners who love the flat, authentic look of stucco but don't want the maintenance or the headaches.
Stucco siding can create a very clean, modern look to a home, and it adds a layer of energy efficiency in the form of insulation as well—perhaps even lowering your heating or cooling bills.
Another issue with traditional stucco is if the house settles—or the earth moves—over time it can develop deep cracks. James Hardie stucco siding panels are resistant to cracking, peeling, or fading, and come in a beautiful array of colors. The installation is always done by James Hardie certified installers, it can be attached over brick or wood, and is much faster and simpler to apply than it's natural stucco counterpart.
Perhaps the moral of this story is, with James Hardie's commitment to sustainable building materials, cutting edge technologies, and expert application, the original stucco material is not always the best choice.
Why not give us a call to discuss the different siding options available for your home? If you want stucco and you've never considered stucco siding, we can show you examples, colors, estimates, comparisons . . . whatever you need to help you make the best possible decision for your home!