Here in Colorado, the weather simply demands durable siding. We sometimes sever weather that means when it comes to choosing a siding–some a little research is a good idea. From the high elevation UV rays to the powerful hailstorms certain sidings just work better here along the Front Range. Read on as we highlight which types of siding we, at Colorado Siding, think work best for homes here and why.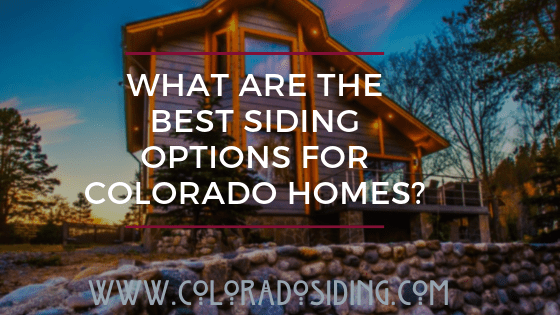 Siding Choices From A Professional Installer
Fiber Cement Siding: Fiber cement siding is a great all-around winner siding and on the top of our list of weather-appropriate siding for Colorado. However, not all fiber cement siding is the same. Which is why we have formed a partnership with who we believe to be the most reliable fiber cement brand in the industry–James Hardie®. It is definitely one of the strongest and most durable siding products available today. It resists cracking, fading, and warping meaning it will withstand whatever Colorado's intense summer heat and winter storms throw at it. Best of all, even with wear and tear it will still look fabulous. Plus, it offers unparalleled protection from birds, insects, hail and even fire.
Composite Siding: LP SmartSide is what is called a composite siding. Similar to fiber cement but made from different ingredients. This siding allows for incredibly durable siding–standing up against the harsh weather we tend to see here in Colorado. Its impact resistance is amazing and means that you don't need to be nervous every time you see a dark cloud on the horizon. Plus, it resists things like termites and fungal decay. Best of all it has excellent paint adhesion qualities with and high UV resistance to prevent fading–which is much need to deal with the intense Colorado sun.
Diamond Kote Siding: This product is actually built off of LP® SmartSide® products. It is an incredibly tough coating that when added to LP Smartside is backed by a 30-Year No Fade Finish Warranty and 5/50-Year Limited Siding Systems Warranty. Making it an excellent choice for any Colorado home. Not only will it make your home practically impervious to hail, heat, frost, and thaw (all things Colorado is likely to throw at it) but comes with the peace of mind that its exceptional warranty brings. It is even more perfect for Colorado, a state with a reputation for being green because it is made from renewable sources with strict adherence to Sustainable Initiative® standards.
Vinyl Siding: When it comes to price it is hard to beat vinyl siding. It is an incredibly cost-effective way to clad your Colorado home against everything the extreme weather here will throw your way. We have a strong partnership with Alside Vinyl siding because of its proven reputation for both functionality and beauty. It is a vinyl siding option that will satisfy your aesthetic and performance needs. Alside is a premium vinyl siding, so it is slightly more expensive than other vinyl options but is definitely worth the extra cost. Because the money you will save by taking advantage of this brand's superior insulation and energy efficiency will offset the cost. It even has soundproofing qualities. Best of all, Alside vinyl siding is very low maintenance and comes with many attractive design options.
Wood Siding: For the look of real wood siding–nothing matches actual wood. This type of siding is something we suggest for Colorado homeowners that want a truly authentic rustic look. Great for city homes and mountain homes wood siding is as versatile as it is stunning. The varied selection of colors and wood species available means you can get exactly the look you want. Plus this readily available product is easy and fast to install and more so repair. Also, it is a green product–100% biodegradable and easy to find in sustainably sourced options
For more information on any of the sidings we think work for Colorado homes and schedule a free, on-site consultation for pricing, contact us at Colorado Siding today!