James Hardie Siding Green Benefits Colorado
Industry professionals weigh in on "Green and Sustainable" products and trends.
Dr. John Straube, P.ENG on the benefits of James Hardie® siding over vinyl and wood
An Associate Professor in the Department of Civil Engineering and the School of Architecture at the University of Waterloo, Ontario, Canada, Dr. Straube has been deeply involved in the areas of building enclosure design, moisture physics, and whole-building performance. As a consultant, researcher and educator, he teaches a course in structural design and building science to both disciplines.
Austin Green Building Program — oldest in the country gives credit for James Hardie® siding
Peter Pfeiffer, FAIA, served on the advisory council for Austin's Green Building Program, the oldest program in the U.S. Superior water-shedding capabilities is just one reason James Hardie® siding earns credit in one of the most stringent green programs established.
Peter Pfeiffer, FAIA, Barley + Pfeiffer Architects
Peter Pfeiffer is a principal of the Austin-based architectural firm of Barley + Pfeiffer Architects, a national leader in the field of energy-conserving green design. He has spent the past 28 years developing and advocating pragmatic green building principles and methods – with the singular goal of 'mainstreaming green'.
Better, Not Bigger — Sarah Susanka, FAIA author of the Not So Big House series on the use of sustainable building products
"James Hardie® siding is a sustainable and marvelous substitute for wood. It's available pre-colored and the finish truly looks like high-grade wood siding. I've used this product line for years, and have been delighted with the results…"
Enduring Appeal — Building Scientist Joseph Lstiburek, BASC, MENG., PHD, PENG on what it means to be green.
"The single most important factor in green and sustainable architecture is durability. If you want something to be green, it has to last a long time. This means it has to handle water, heat and UV radiation…"
MasterClass — Jim Sargent, GMB, CGB, CAPS, the first builder to have earned the Master Builder designation from Energy & Environmental Building Association (EEBA) has used James Hardie siding for over 15 years.
Jim Sargent of Waxahachie, TX has built a reputation for creating environmentally sustainable houses. Sargent began his custom home building business in the 1970s during the oil embargo and ensuing energy crisis.
Marilyn Miller Farmer, AIA, LEED A.P., Director, Green Building Pages, Inc.
Architect Marilyn Miller Farmer is the founder of Green Building Pages, a web resource guide for sustainable building materials. The award-winning site provides a database of green materials and their manufacturing processes, as well as links to more than 400 related sites and over 130 green building case studies. Farmer discusses the role of green building in today's marketplace.
Dale Knox, Research & Development, James Hardie® USA
James Hardie® Building Products is the industry leader for fiber cement exteriors. Watch company Research & Development expert Dale Knox describes how the James Hardie® Building Sciences program continually strives to develop the longest-lasting products in the world.
James Hardie® products are rare in that they combine beauty and durability and also are considered "Green and Sustainable" by industry professionals.
There are a number of quality building products in the marketplace to choose from, but only James Hardie® delivers the level of durability and peace-of-mind you can trust. James Hardie® exterior and interior products combine sustainability and beauty and offer unmatched durability.
Contact us today for more information!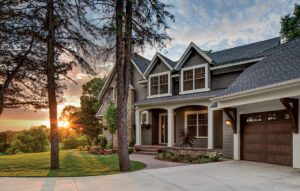 In Carbondale, savvy homeowners know the secret to long-term savings: LP Siding. In Carbondale, homeowners...