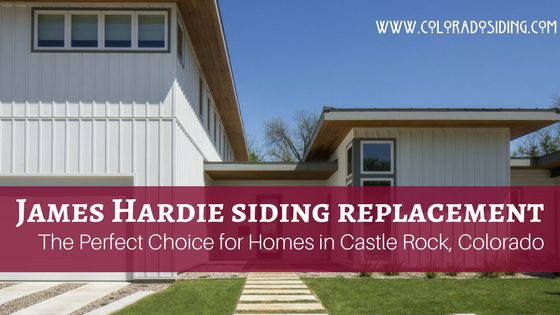 Living in Colorado, your home endures a lot over the years. Colorado weather can be rough on your home siding. The constant onslaught of high altitude sunlight during the summer combined with freezing winter temperatures and snow can cause your siding to lose its integrity, fade, and degrade over time. This is especially true for homes in older communities or cities like Castle Rock. Castle Rock is home to hundreds of historic buildings and houses, some of which are close to 150 years old. That's why James Hardie replacement siding is perfect for Castle Rock's older neighborhoods. James Hardie replacement siding can make your Castle Rock home more energy efficient and comfortable and restore its beautiful appearance.

Signs Your Siding Needs to Be Replaced
Replacement siding can be a fairly considerable investment financially, but it's also one that shouldn't be ignored. Failing to replace your siding could result in unnecessary energy expenses or structural damage to your home. But if you have a home that's nearing a considerable age, you may want to start checking your siding for signs of wear. Here are some telltale signs that your siding needs to be replaced:
1. It seems like you're constantly having to repaint your home.
If your paint is constantly chipping or looks like it's faded, you could be in need of new siding. Constant chipping, peeling, or cracking is a good indication that your siding is nearing the end of its life expectancy. Most siding products last at least ten years, but some of higher quality, like James Hardie fiber cement can last even longer and come with a solid warranty.
2. Your energy bills are unusually high.
High energy bills are another sign that your siding may need to be replaced. Siding is a crucial part of what contributes to the insulating performance of your home. With good insulation, all the hot or cold air generated by your HVAC system can easily escape through the walls. James Hardie fiber cement siding is one of the most energy efficient options for Colorado residents and is available in a variety of textures, colors, and styles.
3. There are visible signs of physical damage or deterioration.
Weather damage is extremely common for Colorado homes, especially for certain types of siding like wood, cedar, and vinyl. If your siding is warped, cracked, rotting, or loose, you probably need replacement siding. If this is the case, our Castle Rock siding experts can help you find the perfect replacement option and will even visit you onsite for a free consultation.
Get an Estimate on James Hardie Replacement Siding in Castle Rock
If you believe that you may need replacement siding, we urge you to contact our office. When it comes to siding, it's best not to wait. We can provide you with a free estimate for your project and will even visit you onsite for a comprehensive consultation. Our company is the number one rated James Hardie contractor in Colorado and serves all areas of Castle Rock, including the downtown historic community and outlying suburbs. Call now to speak to a representative.