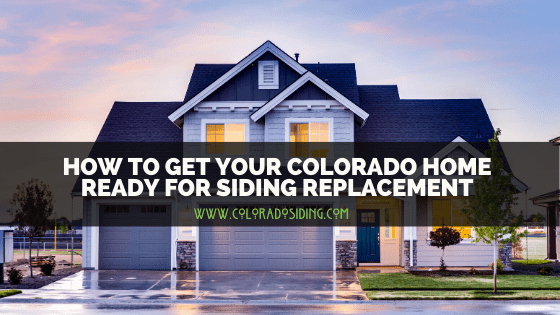 The hardest part of having new siding applied to your Colorado home is finding a contractor you feel confident in. As we have mentioned in other blogs, it is best to take your time vetting siding contractors. Also, never hire based solely on price. However, once this time-consuming task is finished–you only need to prepare for the upcoming siding work.
How to Prepare Areas of Your Home For New Siding
Preparing your home for siding work isn't that different from getting ready for other home improvement jobs. You need to think about how the job will affect the inside, outside and those living in your Colorado home. Workman safety and ease is another consideration.
Siding Preparations Inside Your Home
Remove all items hanging on the walls and shelves. Because of the pounding, your walls may shake a bit and this will keep your family and belongings from damage.
Make arrangements for kids and pets to be out of the home once the work begins. The process of residing a home is loud and could upset them.
Be available for calls. Most of the time your siding goes up without a hitch. However, it is good to clear your schedule enough to take calls from the project manager about your siding job.
Siding Preparations Outside Your Home
Do a walk around your home's perimeter. You will need to move anything that blocks access to any part of your home's outside walls. Patio furniture, landscaping equipment, vases, and hoses are just some of the obstacles that could be in the way.
Wrap delicate shrubbery. Siding involves a lot of boots on the roof and the ground. So, make sure you protect any landscaping in the path of the workers.
Cut your grass. This will make sure debris from the job, like nails, can be easily picked up by workers when the job is done.
Get your power outlets ready. Siding professionals need to use outdoor power. If you have anything plugged into these make sure to unplug it to give the siders access to receptacles.
These are just some of the most basic preparations to make for new siding on your Colorado home. Contact your siding company to ask if they need anything further from you. For any questions on siding or to talk to us about getting a siding estimate–contact Colorado Siding today!