If you're a Bailey Colorado resident and are in the market for some new siding, Colorado Siding can help. Our expert team has been managing and installing siding for over 20 years. Our experts have installed siding on thousands of homes throughout the Front Range, so you can rest assured knowing that your siding is being installed by a trusted and dedicated team.
After all, siding is only as good as its installation. Did you know that each different type of siding requires different installation methods? Here at Colorado siding, we have extensive experience in all the current types of siding and the best practices for their installation. Did you know that for Bailey Colorado, siding has specific needs because of its climate extremes?
Bailey Colorado siding projects need to take the Colorado mountain climate into consideration. Would your home be better off with traditional wood siding, or one of the newer alternatives? If you've had wood siding before, you know that it is susceptible to rotting, warping, peeling, splitting, termites, and the sun's UV rays that cause fading.
What about some of the newer alternatives? Vinyl remains widely popular. Steel is gaining in popularity. And fiber cement, developed only about 25 years ago, has taken the siding world by storm because of its durability, its green qualities, its non-flammability, and its beauty. And it is "engineered for climate," meaning that if you purchase fiber cement siding, you will receive the one specially engineered for Bailey's harsh climate conditions
.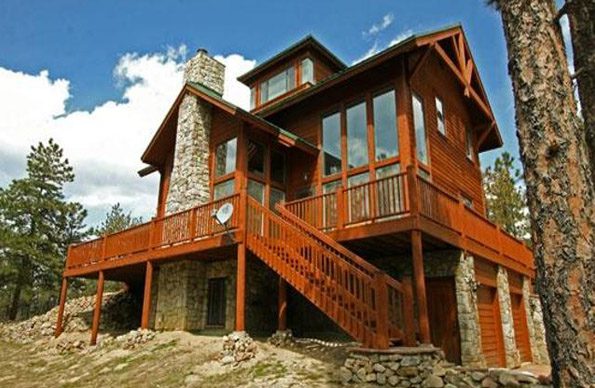 In Bailey Colorado, siding that is non-flammable is an excellent choice. Although it won't stop a wildfire, it will not add any fuel to it, nor will it burn.
When people decide their home needs new siding, one of the first things they think of is the color, the trim color, and the style. But there are other considerations as well. Your budget. The amount of maintenance you are willing to do. The length of time you'd like your siding to remain vivid and beautiful without needing repainting.
Why not talk to us about all the different Bailey Colorado siding issues and questions you might have? We can give you the information you need about the various types of home siding so you can make an informed and appropriate decision. Which type of siding material is best for your home?
Please give Colorado Siding a call today to get the information you need and receive a quote. We look forward to earning your business, and making your siding project a smooth, efficient, and satisfying process.