New Castle Colorado Siding
New Castle, Colorado Home and Business Siding
Shielding your home from the severe winter weather that can occur in New Castle, Colorado, is as easy as contacting Scottish Home Improvements. We want to be your siding contractor so we can show you how certain options can save you a lot of money on energy and maintenance costs.
Siding Options for New Castle Properties
One of Scottish Home Improvements best siding options is called James Hardie® Fiber Cement Siding. Many homeowners have discovered how fiber cement siding can protect their home better than the popular vinyl. Unlike vinyl, which can crack when exposed to freezing temperatures for too long, James Hardie® fiber cement siding will last for many years with little maintenance. When installed with HardieWrap® weather barrier and rigid foam insulation, fiber cement siding also provides better insulation than vinyl, so you will notice your heating bills are much lower, even during the coldest months of the year.
As another option, you can consider James Hardie® VerticalPanel® stucco style siding. While it looks like stucco siding, it does not share the chipping or cracking issues of traditional stucco.
Finally, for your commercial space, you can choose steel siding. It may not have the aesthetic appeal necessary for your home, but it can certainly protect your business from the harsh Colorado winter weather.
Scottish Home Improvements customer service has been awarded an A+ BBB rating. Not to mention a 100% recommendation rating in 2011 by Independent Customer Satisfaction Surveys.
Work with New Castle Siding Experts
Our in-home consultation is free so do not hesitate to contact us today.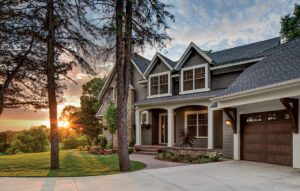 In Carbondale, savvy homeowners know the secret to long-term savings: LP Siding. In Carbondale, homeowners...